Customisation
When Tascus will now load to the main dashboard screen.
To log in, click the Login button. Initially, there are two usernames 'User' and 'Admin'. To be able to setup Tascus correctly, log in with username 'Admin' and a blank password.
| | |
| --- | --- |
| Username | Password |
| User | |
| Admin | |
After logging in as Admin, the full dashboard will be activated.
To customise system setting, click on the Settings button. This will open up the main settings window.
Tascus site wide settings are configured here – under the Customisation section.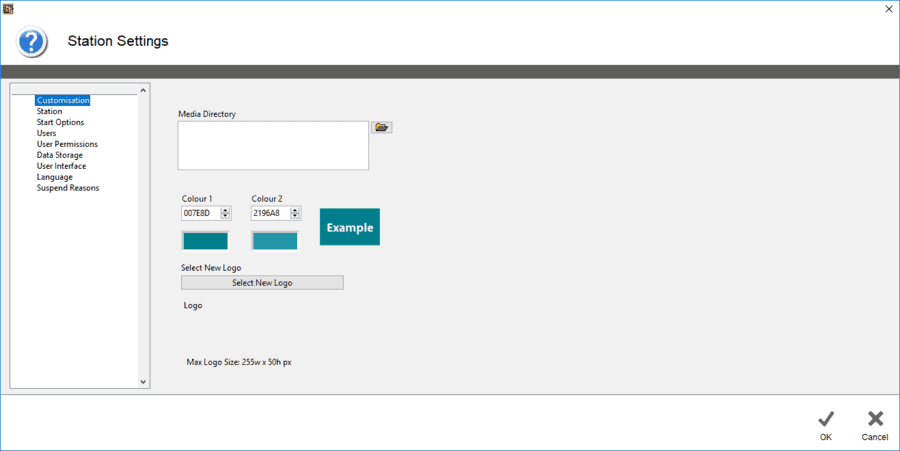 Media Directory: This specifies the folder in which all media files for work instructions are located. By specifying this location here, when building production sequences, all media files will be located in this folder. If you need to change the location of media files, it can be done once here and all production sequences will be updated immediately.
Logo: This will load a transparant png in the top left banner of the Tascus display. Maximum image size should be 225px x 50px.
Colour 1 & 2: These colour define the colours of buttons and banners in Tascus. You can customise this to your corporate brand.
Adding Users
Whilst in the Settings window, you can add Users to the Tascus database. You can define login roles and permissions for each user.
User fields:
Username -This is the user's username.
Password -This is each users password.
Authority -User, Tech or Admin. (See Default permissions for user authority below).
Email Address -Emails can be sent with reports and alerts.
Position -This is used when generating reports.
Permissions:
Run Production Sequences -Allows an operator to run production sequences (subject to User Permissions).
Override Results -If a step fails a test, allows an operator to override the result so that production can continue with this failed result. Be cautious with this permission as it will enable a failed product to be completed.
Approve Inspection Steps -Approval steps can be added to a production sequence, this permission will allow an operator to give their approval during this step.
Load Serial Numbers / Work Orders -This enables an operator to load serial numbers into Tascus along with their Due Date for production scheduling.
View Reports -Enables the user to view all production reports.
Edit Production Sequences -Enables the user to create and edit Draft production sequences.
Edit System Settings -Enables the User to edit the 'Settings' window.
Release Production Sequences -Enables the user to release production sequences from Draft to Released. Caution – generally this should not be the same person who creates and edits sequences.
Default permissions for user authorities:
| | | | |
| --- | --- | --- | --- |
| | | | |
| Permission | User | Tech | Admin |
| Run Production Sequences | | | |
| Override Results | | | |
| Approve Inspection Steps | | | |
| Load Serial Numbers / Work Orders | | | |
| View Reports | | | |
| Edit Production Sequnces | | | |
| Edit System Settings | | | |
| Release Production Sequences | | | |
User Permissions
For each user that runs production sequences, you can edit which production operations they are permitted to run. This can be used in conjunction with a training matrix to only allow trained users to perform operations they are trained to complete.
The User Permissions section of the Settings window has a matrix for Usernames against production operations. You can toggle a User's permission for that operation – on or off.